Roger Yost
Landmark Properties
The Reed Opera House
The Reed Opera House is a recently renovated historic building located at the center of downtown Salem. Built in 1869-70 by Cyrus Adams Reed, the Reed Opera House has played many important roles in the history of Salem.
Today, the Reed Opera House continues its legacy as a versatile hub of activity. Unique, locally owned stores and restaurants are located on the basement, first and mezzanine levels. Professional services and business offices are housed on the second and third floors.
The Capitol City Theater provides live comedy on a weekly basis and the elegant Trinity Ballroom is available to rent and is a popular location for Weddings, Proms, Quinceañeras, social gatherings, conferences and other celebrations.
189 Liberty St. NE.
Salem Oregon
(503) 391-4481
Old Spaghetti Warehoue Building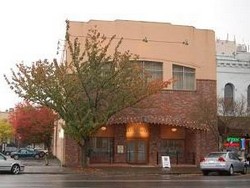 Old Spaghetti Warehouse Building
The Italian Restaurant
Yost leases this restaurant building to the Old Spaghetti Warehouse, a popular Italian restaurant.
The Capitol Center
The Capitol Center building
The Roger Yost Fine Art Gallery
The Capitol Center is a high-rise office building in downtown Salem. The eleven story building rises 151 feet to the top of its parapet wall and is classified as the only high-rise building in Salem.
Available office spaces range from a single office to entire floors. The office rents are competitive and include all utilities paid.
The Roger Yost Gallery, located on the first two floors of the Capitol Center Building, is the largest international art gallery in the Pacific Northwest.
The Capitol Center Building is located at:
388 State St.
Downtown Salem Oregon
(503)391-4481
The Vick Building
The Vick Building
The Vick, a 35,075 square foot masonry building constructed in 1920 to house a tractor dealer.
The Vick is currently leased to State of Oregon tenants from the Judicial Department and the Office of Private Health Partnerships.
525 Trade St.
Downtown Salem Oregon