Roger Yost
Biography
Roger Yost takes life where it leads him.
He has been a writer, editor, adman, marketer, educator, environmentalist, film producer, lyricist, master gardener, nurseryman, restaurateur, art gallery owner, investor, landlord and as many of his employees would add: Coach and Mentor. He remains many of them to this day.
Historic Buildings Owner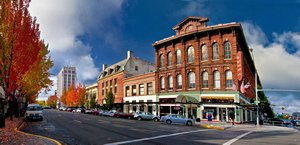 The Reed Opera House (R), Capitol Center (far Left)
Yost owns two of Oregon's most historic treasures (Salem's Reed Opera House); and the city's tallest office building in Salem (The Capitol Center) which also houses the new "Roger Yost Gallery of Fine Art"; the 1920 Vick Building and leases his downtown restaurant building to the Old Spaghetti Warehouse, a popular Italian restaurant.
Salem Visionary
He has been unselfish with his time, serving on boards or committees related to Salem's downtown community, tourism, educational institutions, and the city's future visions.
Why? He says:
"At this stage of my life. I have no lofty personal ambitions. I'm simply dedicated to making this city--our state--a greater place. Greater for art, music, theater and general livability. It's important to give kids and their parents and teachers, incentives and space to perform and grow. To help them become special and begin to recognize and realize their dreams."
Education
Yost was born in Wesson, Mississippi, January 6, 1936; grew up in Chicago, and received a degree from Northwestern University's Medill School of Journalism in 1958 after attending both Grinnell (Iowa) College and Chicago's Wright Junior College.
Reporter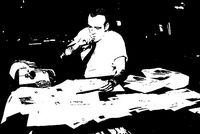 Reporter, Chicago Sun-Times
He achieved his childhood ambition–becoming a reporter for the Chicago Sun-Times–before his 20th birthday while going to class and working a full 40-hour week. He spent five years with the newspaper before joining J. Walter Thompson Co.(JWT), then the world's largest advertising agency.
Along the way he would marry his high school sweetheart (Barbara Brown), and fathered two children Kathryn and Douglas.
Sports Marketing, Multimedia Pioneer
In 1965, at age 29, Roger Yost left Chicago and JWT to join Jantzen Inc. as its youngest executive and proceeded to play a pivotal role in the world-famous swimwear/sportswear company for nearly 33 years.
While managing the advertising and marketing for the company's men's division, he would broaden the company's early involvement in sports marketing, pioneer multimedia in industry fashion shows, and years later revive Jantzen's 1920s environmental campaign called "Clean Water."
He would become corporate vice president in charge advertising and marketing before leaving the company in 1998 to manage a nursery and garden center he began imagining and building in 1994—"sort of a Disneyland for gardeners."
Within a few weeks of his arrival at the Portland (OR) based campus, Yost added Philadelphia Eagles running back, Tim Brown, to the Jantzen's roster of sports advertising celebrities, which included Frank Gifford, Bob Cousy, Bobby Hull, Jerry West, Paul Hornung and Oregonian Terry Baker. Brown became the first African American athlete invited to join Jantzen's International sports Club of product spokesmen.
Yost with Surfing Champions
Yost's recruits would eventually expand Jantzen's involvement in sports to champions of Surfing (Corky Carroll), Tennis (Roscoe Tanner, Cliff Drysdale and Cliff Richey), Bowling (Dick Weber), Rodeo (Larry Mahan), Windsurfing (Paul Annacone) and Beach Volleyball.
He also hired Don Meredith and Calvin Hill (Dallas Cowboys), Lance Alworth (San Diego Chargers), Gail Goodrich (Los Angeles Lakers), and Vida Blue (Oakland A's) to grace Jantzen's highly rated ads in Life, Sports Illustrated, Time, Playboy, Newsweek, Esquire, Rolling Stone, Golf Digest and Tennis magazines, and commercials on various TV networks.
Partners with NFL, Syndicates TV Shows
In addition to attracting some of the greatest athletes of the 1960s and '70s, Jantzen would become the first major apparel licensee of the National Football League; a national sponsor of American Football League telecasts; producer and syndicator of a TV biography of Laker superstar Jerry West ("Opus 44"); as well a golf, surf and windsurfing championships, and its own unique National Fast Serve tennis championship.
To promote Jantzen's NFL products, Yost booked such stars a Johnny Unitas and Gale Sayers to appear in department stores, along with Hornung, Meredith, Gifford and Alworth, sometimes resulting in blocks-long lines in such non-NFL towns as Birmingham, Portland, Richmond and Spokane.
While reigning as America's No. 1 sportswear brand, Yost and his Jantzen associate, Patti McGrath, arranged to outfit more than 75 major university and college tennis and golf teams. But his proudest achievement may have been the hiring of three pro golfers to help Jantzen combat the proliferation of Penguin and Crocodile logos on the PGA tour.
In 1976 Yost persuaded Hale Irwin, Tom Watson, and Lanny Wadkins to wear Jantzen Colors. "It was a belief in quality versus quantity," Yost remembers. "Except for a few high-profile pros, all Munsingwear and Izod were doing was providing an army of golfers with free shirts. We set out to find the successors to Ken Venturi and Dave Marr ['maybe my best friend - ever'] who would be quality spokesmen ... and get the Jantzen logo on television screens for hours at a time."
The Year Jantzen Dominated Golf
Watson, Irwin and Wadkins became the new Jantzen golf team, along with ABC commentator Marr, and finished 1, 3 and 4 on the PGA money earnings list in 1977. Only Jack Nicklaus interrupted a Jantzen 1-2-3 sweep. It was a year in which Watson would win the Masters, British Open, Vardon Trophy and Player of the Year Honors; Wadkins would win the PGA Championship and World Series of Golf, and Irwin three important PGA events.
"The Proudest moment? When Mark McCormack [founder and CEO of International management Group] called and suggested I pick the golfers he should represent going forward!" Yost laughingly recalls.
Between his relationship with IMG and friendships with Wake Forest's Jesse Haddock and other college golf coaches, aspiring pros would come to Jantzen first. Among those who signed on: Curtis Strange, Peter Jacobsen, Scott simpson, Bob Byman, Hal Sutton, Jim Simons, George Burns, and Bruce Fleischer.
He Brings Sweat Equity to Women's Wear
When Yost was elevated to corporate vice president in charge of advertising in the late 1980s, he would soon reshape the women's division image and drive the brand "younger" in pursuit of more floor space in department stores.
He did so by introducing a communications strategy that would emphasize cause-related marketing and event sponsorships, while balancing beauty and fitness in print, broadcast, direct mail, outdoor, transit and point-of-sale advertising.
In the early to mid-1990s, Yost hired beach volleyball stars Karolyn Kirby, Nancy Reno, Angela Rock, Barbra Fontana and Elaine Youngs. The endorsements not only added an authentic "sweat equity" to the venerable company, but instantly made Jantzen the dominant apparel brand in the sport.
NBC televised women's beach volleyball almost every summer weekend, and one or more of Jantzen's volleyball stars invariably dominated the tour finals.
With Jantzen associate Susie Cunningham, Yost took Jantzen's involvement in beach volleyball to another level in 1995 and 1996 when he brought the entire women's tour to his home city of Portland for the $50,000 Jantzen Pro.
Synchronize Your Logos - Jantzen is Everywhere!
Yost & Olympic Gold Winners USA
About the same time Jantzen was dominating the beach volleyball, Jantzen became the national sponsor of the U.S. Synchronized swimming as a prelude to re-entry into the competitive swimsuit market.
A 5-year agreement included renaming the sport's annual championship the Jantzen National, and resulted in two Olympic sponsorships - one resulting in gold for Jantzen's U.S. team. The Association honored Yost with its first Syncro USA award in 1998.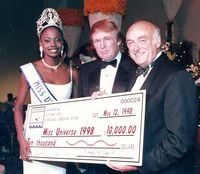 Miss Universe '98, Trump & Yost
The Jantzen logo not only became ubiquitous at televised beach volleyball events, but would find its way onto a major Times Square billboard; an Indy car (Jantzen would co-sponsor ground-breaking driver Lynn St. James with J C Penney); on Baywatch actors and real lifeguards (Jantzen became the sponsor of Los Angeles County lifeguards and the annual National Lifeguard Championships), and on contestants in the most watched beauty pageants in the world - Miss USA, Miss Teen USA and the Miss Universe Pageants.
"I was told the Times Square billboard generated more than 1 billion impressions a year - and that of Miss Universe pageant would attract an audience that size in a single night," Yost said. "And that was before Donald Trump became involved with the pageant!"
Yost and Trump would soon be exchanging one-liners during the post-pageant party and check presentations.
Clean Water Campaign is Revived
Clean Water Campaign Logo
Although adding a "sweat equity" dimension to women's wear, the sponsorship of lifeguards, pageants and the Times Square billboards added significantly to Jantzen's visibility, the centerpiece of Yost's marketing campaigns involved the revival of Jantzen's 1926 Clean Water initiative.
In the Roaring '20s, Jantzen's founders teamed up with swimming pool makers to provide reassurance that public pools were safe and not breeding grounds for polio. The Clean Water campaign launched in the '90s targeted pollution, beach cleanups and partnerships with environmental groups dedicated to a common cause.
Department stores in almost every major U.S. city would eventually establish Jantzen Clean Water shops and donate $2 for every Jantzen suit sold to local environmental groups.
Ads in USA Today and its Times Square billboard proclaimed that Jantzen was not out to save the world - just three-quarters of it. The company soon sponsored beach cleanups on all three North American coastlines, trumpeted environmental messages at beach volleyball venues, in Miss USA and Miss Universe television spots, and through its lifeguard sponsorships.
The campaign was reintroduced in Santa Monica, CA, at a Robinson's Department Store during an event to benefit Heal the Bay. Yost staged a show combining antique Jantzen swimwear with its new line, and an appearance by Baywatch star David Hasselhoff, who discussed the ever present perils of pollution during the production of his popular TV series.
Jantzen would sponsor swims in Boston Harbor to call attention to work being done to by Save The Harbor/Save The Bay. Retail partner Filene's draped eight 20' Clean Water banners across the front of its Downtown Boston store for 30 days to introduce the campaign to New England.
Yost convinced Macy's New York and Conde Nast publications to join Jantzen in staging an annual cleanup of Jones Beach, transporting hundreds of college students from the Macy's Herald Square store to the iconic Long Island playground.
In Oregon, Jantzen teamed up with Portland General Electric and SOLV to sponsor beach cleanups, busing several hundred employees to North Coast locations to retrieve litter and cigarette butts. "We made it an annual picnic for entire families," Yost recalls, "and involved both Miss USA winners in the cleanups in our home state and on Texas' South Padre Island."
The Early Real Estate Investments
Roger and Barbara Yost
While helping build Jantzen into one of America's pre-eminent apparel brands, Yost and his wife, Barbara, began investing in Oregon real estate.
They refinanced their Portland Heights home in 1977 to purchase a 1905 16-unit apartment building (The Queen anne") in Northwest Portland and an oceanfront home in Arch Cape, Oregon. Although ideally located, both properties would require substantial upgrades - acquisitions that would become a hallmark of Yost's property investments.
In September 1984, the Yosts would purchase a small strip mall in Downtown Lake Oswego to house a displaced pet store ("Tropical Fantasy") the family had purchased a few months earlier for their son, Douglas, to manage.
Barbara Yost, diagnosed with cardiomyopathy in 1969, would oversee the family real estate investments until her death in 1989 at age 53.
Within a year a devastated Roger Yost would sell the Queen Anne apartments to Walter McMonies, a major Northwest Portland property owner, and reluctantly enter into a contentious legal battle with the City of Lake Oswego after it condemned the block housing the Yost mall. The battle lasted for almost eight years before the city and Yost agreed on a settlement in 1994.
The City of Lake Oswego would spend almost four years before developing the block housing Yost's Lake Oswego property into the Lakeview Village of upscale shops.
Yost reinvested the proceeds from the sale in a 42 acre parcel of unincorporated land on busy Highway 99 adjacent to the City of Newberg and a stone's throw from Rex Hill, a 12-year-old vineyard and winery.
While Lake Oswego procrastinated, Yost continued to help build Jantzen's market share through creative efforts, and briefly struggled with the direction of his Newberg acquisition.
The Birth of Wine Country Nursery
Zoning made development a long-term consideration, and a vineyard would also require time and expertise Yost lacked. Retail geography made the difference: Newberg residents had to drive 10 miles to access the nearest full service garden center.
Yost would study successful garden center operations in Oregon, California, Texas, Massachusetts, and Canada while boning up on botany and becoming a Master Gardener. Within a year he would open the Wine Country Nursery & Aquarium, specializing in exotic plants, Japanese maples, magnolias, conifers, and water gardening.
Business grew rapidly, and by 1998 Yost had erected eight green houses to supply his garden center and was a fixture on radio and television shows dedicated to gardening aficionados. Demands were such that Yost decided it was time to leave Jantzen after nearly 33 years.
The rapid growth of Wine Country was chronicled by garden center media, and Yost was invited to share his branding secrets with other nurserymen at regional and national trade shows. By 2001, Yost would become president of the Northwest Nursery Buyers Association (NNBA), an organization of 125 leading garden centers based in Washington, Oregon, Idaho and Northern California.
He would play a pivotal role in developing private label products that the NNBA would brand for exclusive distribution by its members.
In 2002 Yost was approached by a company representing the Sisters of Providence. They wanted to erect a regional hospital in the Newberg area, and Yost's acreage was strategically located. Within a year a deal was consummated, and for the first time in over 50 years, Yost found himself unemployed.
The Move to Downtown Salem
The sabbatical was short-lived. Yost's exploration of investment opportunities led him to Salem, Oregon, where two landmark Downtown buildings caught his eye: The Capitol Center "skyscraper," built in 1927 by hops king Thomas Livesley, and the historic Reed Opera House, which was built in 1870 by Oregon's adjutant general, Cyrus Reed. Yost bought them in the spring of 2003, a decision that would once again dramatically change his life.